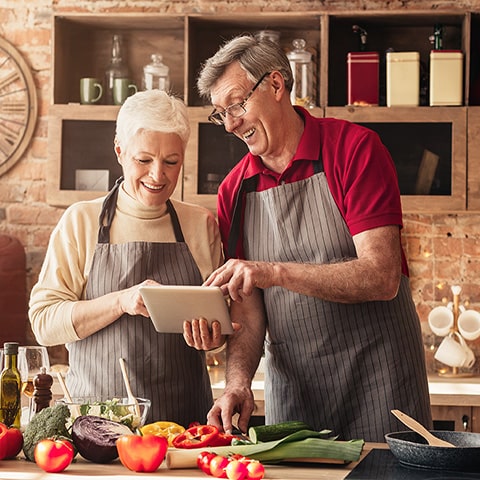 What do extra care homes offer the elderly?
 Often referred to as the Silver Eco innovative housing solution, extra care homes have been designed to reflect the mindset and routines of their elderly residents. This is a longer-term solution for healthier, more confident, and more active individuals who nevertheless have certain needs that must be catered for. Loneliness, the risk of domestic accidents, the difficulties encountered in performing everyday tasks, and the need for support and reassurance are all key issues to be addressed. The extra care home option therefore appears to be the tailor-made solution combining independence and privacy with activities, various support packages, and, overall, a more practical lifestyle.
Who would benefit the most from an extra care home?
Extra care homes generally welcome residents from 60 years of age who decide to move into residential accommodation. This type of facility has a professional team on hand to support residents in need of assistance or to cope with any kind of emergency. However, no care team is available and medical care per se is not provided. This kind of establishment therefore tends to operate like a private home. Extra care home residents are therefore able-bodied or very slightly dependent. Several of these facilities provide administrative assistance in arranging medical appointments or dealing with other important matters. Elderly individuals who decide to move into an extra care home are generally driven by a desire to avoid loneliness or the risks associated with unsuitable accommodation that is often far too spacious. They sometimes welcome the opportunity to live in a different location, near the coast, for instance, or closer to relatives. Within the facility itself, they have access to à la carte hotel services that spare them from household chores that become increasingly difficult with advancing age. Residents have a wide choice of services to choose from although these may vary from one facility to the next. Such services include housekeeping, laundry, a concierge service, grocery and meal deliveries in some facilities, administrative assistance, and repair/DIY services amongst others. Quality catering is also available on-site.
So what is the typical daily routine in an extra care home?
The principle behind extra care housing is freedom of choice and an independent lifestyle. Every individual organizes their day to suit them. The accommodation is private and is generally in the form of flats ranging from studios to three-room apartments. Most extra care homes offer a number of facilities and extra benefits such as private parking, balcony, and terrace, or even a private garden, views, facilities to encourage independence, and a secure environment including a walk-in shower and fully equipped kitchen. These apartments are available for rent or purchase, depending on availability. There is also considerable scope for personal taste when it comes to decorating and furnishing the living space. You can move into a furnished apartment or bring your own furniture and get help with moving and installation. Remember that, first and foremost, this is someone's home.  Residents also have free access to club areas and communal living spaces, which often include a swimming pool, gym, and even a sauna as well as other services. This will inevitably vary from one establishment to the next. Because residents are independent and can organize their own daily routines both within their apartment and outside, extra care homes are often located close to the city center, pharmacies, shopping centers tres, and other amenities and places of interest.
The extra care home - a friendly and secure place to live
Whether you live alone or as a couple, extra care homes give you the opportunity to share activities and go on outings with other people. You can enjoy friendly conversations and make more friends along the way. You can decide, without any obligation, whether you would like to spend some time on your own or with others. Extra care homes often arrange excursions, chat groups with people of all ages, cultural activities, and other group events that you can join whenever you want. You can have your meals in your own apartment, invite friends and family to dinner without having to cook, or choose the lounge/restaurant option.
Security is a major asset of extra care home accommodation. Help is at hand whenever you need it. Elderly residents often leave a home that is too big for them, with stairs, or which no longer meets their needs as they get older. An extra care home offers them every comfort and secure facilities.
As people get older, their health changes. They may become more dependent and will require more care over time. It will then be easier to move into and get settled in a suitable retirement home.
Are pets welcome in extra care homes?
Pets often play a big part in the live ef elderly people. It is vital for normal routines to be followed as closely as possible and residents should be able to take their little companions with them. Mindful of the fact that this is an important issue, more and more facilities are now agreeing to take pets under certain conditions, provided that the animals in question do not disrupt the daily routines of the other residents. Some facilities might even offer a dog-walking service, for example.
Senior Home Plus advisors have access to an extensive database covering the length and breadth of England, which is updated on a daily basis. This information can help you get the feel of each extra care home and find the facility best suited to your needs, your budget, and preferred geographical location. We are here to help you every step of the way.
Call us on 0203 608 0055. Our advisors are here to answer all your questions.