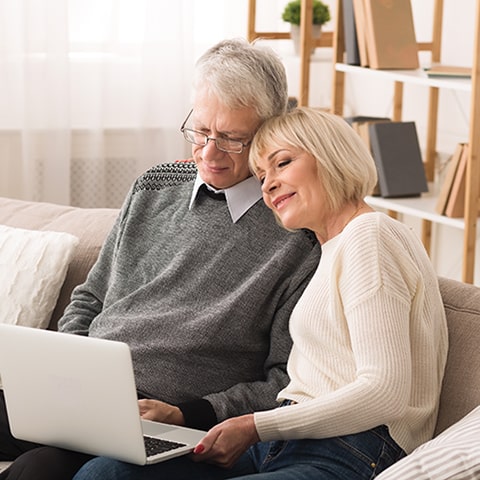 What type of accommodation is available in extra care homes?
The extra care home principle strikes a balance between private accommodation and access to services and communal areas. The facilities are therefore intended for people living alone or as a couple, who want to continue living in a private apartment. The accommodation provided ranges from studio flats to three-room apartments comprising a bathroom, kitchen, living room, and sometimes a balcony or terrace or private parking. The monthly fee generally includes a set amount for utilities (electricity and water). Some establishments also offer a minor repair/DIY service. Some apartments are available to rent and others to purchase. They are generally furnished but can be reconfigured and personalized to suit individual tastes. Some extra care homes even allow residents to bring their own furniture and offer assistance with moving. Residents are free to come and go as they choose. Family and friends can also visit. Some facilities even have apartments where visitors can stay on a short-term basis.  
Extra care home services
Day-to-day living is much easier in an extra care home thanks to the wide range of services that spare residents the onerous task of completing household chores and dealing with admin issues on a daily basis. The environment is similar to that of a hotel but with additional services tailored to the needs of the elderly residents who enjoy having their own apartments. These include laundry, concierge, catering, and cleaning services, which are carried out by members of staff or outsourced to a domestic care company. Most establishments serve meals in the restaurant or in the resident's private apartment. Friends and family can also be invited to dinner! Depending on the facility you choose, administrative assistance, a grocery delivery service, and other support services such as dog walking, for example (if pets are allowed), may also be available.  
It is important to note that these facilities offer two types of packaging. Some provide an overall package covering rent based on the size of the apartment, and basic services such as laundry and catering, whilst others include just the rent with the same services being available à la carte. The difference in packaging also has price implications. You should therefore check what each package comprises in each individual facility. 
In addition to the standard services available in any hotel, extra care homes generally offer access to several types of services and communal areas. Once again, some of these services may be included in the basic package or provided as extras. The monthly fee generally includes unlimited access to all communal areas within the establishment such as the library, lounge, garden, and sometimes the gym and swimming pool, depending on the facilities available. A la carte services such as hairdressing and beauty treatments are also available at an additional cost.
Activities available in extra care homes
Everyday life in extra care homes strikes a harmonious balance between the privacy of an individual apartment, programmed activities, and a healthy social life. Living in one of these facilities gives residents the opportunity to make new friends, escape solitude, and share good times together. Every residence usually has a dedicated team that organizes activities and events both on-site and outside. These include group outings, excursions, visits to tourist attractions, cultural events or trips to the theatre/concerts, walks, creative workshops, appropriate exercise classes and sporting activities, gardening, bowls, or other interests left to the discretion and artistic flair of each team. Some of these activities are included in the monthly fee.
Are medical expenses included in the monthly fee charged by extra care homes?
Unlike nursing homes where medical care is included in the monthly fee, extra care homes do not offer medical care packages and there is no on-site medical team. People who move to this type of facility are generally autonomous and appreciate the freedom and independence that this type of accommodation offers. Personal assistance and domestic nursing services are, however, available on request. Extra care homes also provide home comforts and security, which encourage independence and prolonged stays. For example, residents can call the helpline, day or night, if they need assistance. The secure apartments have walk-in bathroom facilities and other essential aids. Extra-care homes are also an ideal place to recover after being discharged from hospital. This option avoids lengthy hospital stays.
Do not hesitate to contact one of our advisors on the following number if you have any questions about choosing/moving to an extra care home: 0203 608 0055.
Assistance is provided free of charge.