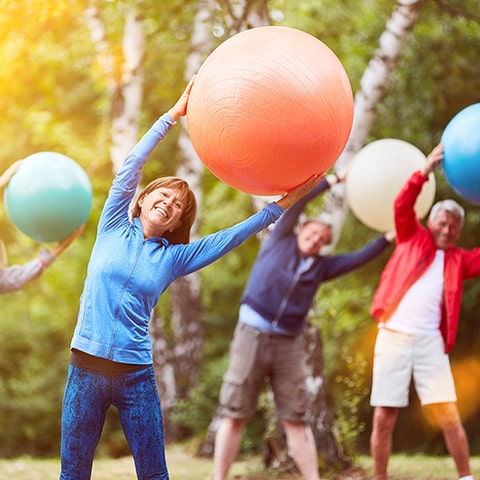 So what are the benefits of care home activities?
Care home activities promote social contact, integration, and communication. The Program mme of events is organized sed from a number of different perspectives in a constant bid to improve the well-being of the elderly residents. The activity team should always be ready to organize therapeutic activities such as memory games, singing or poetry workshops, pet therapy, therapeutic garden visits, gentle exercise sessions, or even balneotherapy. They should also select activities in keeping with the objectives to be achieved for each elderly participant but, first and foremost, they must monitor each person's reintegration into a social setting. For instance, the benefits of art therapy have been widely demonstrated with elderly, dependent individuals as well as those presenting dementia such as Alzheimer's disease. Residents are stimulated whilst enjoying a pleasant and entertaining pastime. They then interact with those around them and put any inhibitions to one side. Creative workshops are particularly effective for calming the aggression displayed by patients with Alzheimer's disease who are then able to participate in a given project.
The therapeutic garden
Many care homes and nursing homes in particular will have a therapeutic garden within their complex. This is seen as an important asset and can benefit elderly residents regardless of whether they are independent, dependent, or disoriented. The therapeutic garden takes them back to nature, encourages the development of physical and cognitive abilities, and promotes movement. The choice of facilities in the therapeutic garden is crucial and these will be adapted in line with various medical conditions and disabilities. Residents can continue to exercise and stimulate their senses, despite any physical or mental disabilities. For example, the floor is designed to ensure ease of movement. The layout has been designed with Alzheimer's patients in mind as well as countless other considerations to ensure that residents can enjoy and derive optimum benefit from spending time in their therapeutic garden.
What is a Snoezelen room in a care home?
Snoezelen rooms create a multisensory environment. Residents can visit these rooms once a week or more often if required, accompanied by the facility's care team. These rooms, which operate light therapy lamps, provide patients with all of the advantages of a revitalizing, stimulating environment. Indeed, exposure to natural light sources is known to energize frail bodies. Apart from other measures in place to accommodate the various disabilities and medical conditions, these sessions are recommended to give the body a boost and offer care home residents moments to cherish.
Furthermore, these sessions allow individuals with various conditions to forge pleasing links with the outside world and to experience enjoyment despite having a disability that is often difficult to manage and accept on a daily basis.
It is important to note that even if a patient with Alzheimer's disease can no longer talk, walk, or remember things, one thing is certain, they still experience emotion.
The Snoezelen approach bears testimony to this fact.
This type of therapy is particularly suitable for individuals with multiple disabilities and certain medical conditions such as intellectual impairment, Down's syndrome, behavioral disorders, Alzheimer's disease, dementia, autism, or visual, oral, or hearing impairment.
The Snoezelen rooms have specific equipment, such as bubble or ball columns, solar projectors, luminous fiber optics, hi-fi systems, foam objects (mattresses or cushions), aromatherapy and tactile tiles as well as relaxation and massage corners.
A living project in care homes and nursing homes
The workshops provide a wide range of activities which varies from one care home to another. However, it is important to check that the activities are appropriate for the disability in question. These activities are intended to stimulate the residents' cognitive functions and often help to prevent or even delay the onset of dementia or senility. Socializing with other residents is a therapeutic activity per se and allows the elderly to continue their vital role in society.
In other words, to promote identity and secure good outcomes. This is the challenge facing these professionals who have to assess targets through a series of organized activity sessions.
We are here to help you choose a care home or facility best suited to your needs. Do not hesitate to contact us on the following number: 0230 608 0055.
Are you looking for a senior living for you or your love one?
Why do you need Senior Home Plus?
Aide personnalisée. Démarches facilitées. Et c'est gratuit !
Un service 100% gratuit pour les familles
Un conseiller dédié tout au long des recherches
Une recherche ciblée en fonction des besoins
Un large panel de solutions proposées
93% des familles conseillées nous recommandent
Plus de 2000 établissements partout en France