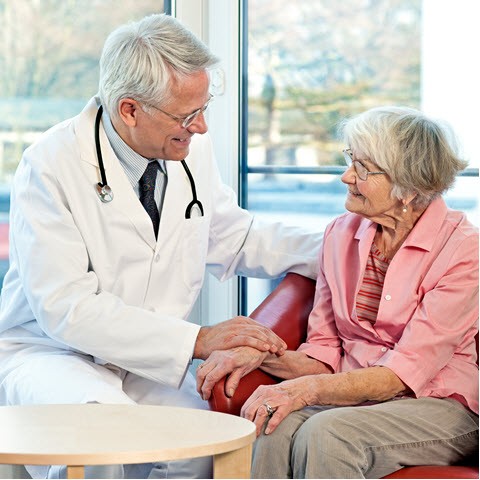 In accordance with the Care Act 2014, local councils are required to provide a free Care Needs Assessment to anyone who requests one, regardless of whether or not they believe you will qualify for any aid. Often, a healthcare provider or GP will recommend that an elderly person undergo such an assessment but an application can be made through the council by the person themself or on their behalf.
You can apply for a free NHS Care Needs Assessment here.
The assessor will be a practitioner such as an occupational therapist, nurse, or social worker who will meet with you either face-to-face or over the phone. The assessor will cover all aspects of your daily life as they relate to your health and social care. They will ask you about everyday tasks such as washing, dressing, and cooking and even specific tasks such as making a cup of tea, getting out of a chair, and turning taps on and off. While some may find these questions intrusive, they are designed to identify the areas in which you need assistance and care. It is important that you are honest and open in communicating your concerns, struggles, and feelings in order to ensure the most beneficial outcomes.
The purpose of carrying out the Care Needs Assessment is to determine your eligibility for care which is dependent on your meeting the following three conditions (Care Act 2014):
    1. The adult's needs for care and support arise from or are related to a physical or mental impairment or illness and are not caused by other circumstantial factors.
    2. As a result of the adult's needs, the adult is unable to achieve two or more of the outcomes specified below.
■     Managing and maintaining nutrition
Are they able to shop and prepare food and drink? Do they have difficulty with consumption, e.g swallowing?
■     Maintaining personal hygiene
Is the adults able to wash themselves properly? Do they have access to a washing machine/ laundry facilities?
■     Managing toilet needs
Is the toilet accessible? Are they able to maintain night-time continence?
■     Being appropriately clothed
Are they able to put on or fasten their clothes? Are they able to buy new clothes when needed?
■     Being able to make use of the adult's home safely
Are they able to climb steps, use kitchen facilities, and access bathrooms? Are they able to use home appliances safely?
■     Maintaining a habitable home environment
Is the home sufficiently clean and safe (not damp or in need of repair)?
■     Developing and maintaining family or other personal relationships
Is the adult lonely or isolated? Does their physical or psychological state (e.g mental illness or autism) prevent them from maintaining relationships?
■     Assessing and engaging in work, training, education, or volunteering
Is the adult able to leave their home safely and communicate successfully? Do they have access to information about opportunities available to them?
■     Making use of facilities or services in the community, including public transport and recreational facilities
Are they able to get around the community safely and unattended?
■     Carrying out any caring responsibilities
Does the adult have any parenting or other caring responsibilities which overwhelm them?
    3. As a consequence of being unable to achieve these outcomes, there is, or there is likely to be, a significant impact on the adult's wellbeing.
After undergoing the Care needs Assessment, you will receive a copy of the recorded information. The practitioner will then engage you in further discussion about the kind of support you need and the best way for you to get it. If it is established that you have met the above three conditions and you qualify for help from the council, a care plan will be drawn up to initiate this. The council may suggest practical aids and solutions such as disability equipment or adaptations to your home. They may recommend a higher level of assistance such as a carer or residential care in a care home.
The next step in this process will involve a financial assessment, or means test. The purpose of this assessment is to establish whether you are able to fund your own care or whether the council will contribute towards it. Ultimately, they will look at two factors: your income and your capital. However, if you do not qualify for financial assistance from the council, you should receive a letter with an explanation for this decision. The council will also direct you to organizations and charities that may be able to help you.
We are here to help you choose a care home or facility best suited to your needs. Do not hesitate to contact us on the following number: 0203 608 0055.
You can also contact us online.
Are you looking for a senior living for you or your love one?
Why do you need Senior Home Plus?
Aide personnalisée. Démarches facilitées. Et c'est gratuit !
Un service 100% gratuit pour les familles
Un conseiller dédié tout au long des recherches
Une recherche ciblée en fonction des besoins
Un large panel de solutions proposées
93% des familles conseillées nous recommandent
Plus de 2000 établissements partout en France