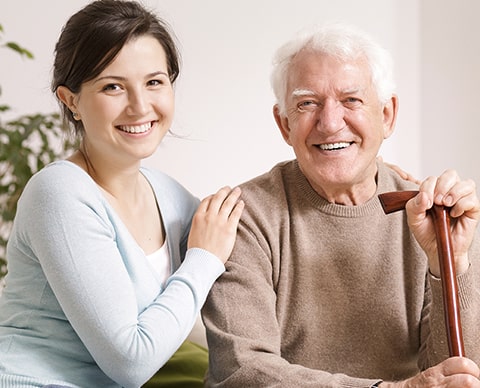 Senior Home Plus advisors use an extensive database listing a large number of establishments with up-to-date information on vacancies to select those facilities that best match individual needs. Apart from the basic criteria used by advisors to differentiate between care homes, nursing homes, and extra care homes, they also have at their fingertips specific information on the various establishments, the level and quality of service provided, and on care teams based on numerous testimonies not only from residents and their families, but also from the medical staff and social workers working in close collaboration with Senior Home Plus. 
Choose a residential home based on the health of the individual concerned. Are they independent, dependent, highly dependent, or disoriented like patients with Alzheimer's disease?
Several selection criteria should help you single out the facility best suited to your elderly relative's needs. The most crucial factors in this respect are the degree of dependence based primarily on the NHS Needs Assessment, and the level of medical care required. Depending on the person's general condition, the care home you choose must be capable of meeting specific care needs and should be appropriately equipped. Osteoarthritis, Parkinson's disease or Alzheimer's disease, impaired vision, or minor disabilities – all of these factors need to be borne in mind when making your choice. Your GP will also be able to assist in the assessment process.
Nursing homes offer a secure environment and full care packages, 24/7, for dependent and highly dependent individuals. The merits of any facility largely depend on the empathy and commitment of dedicated care teams. The carrier to resident ratio must also be sufficient to cover every eventuality. Particular importance is also attached to the social and therapeutic activities available in care homes as the continued well-being/mental stimulation of residents is paramount.
Whether the elderly individual is still independent or is gradually becoming more dependent, care homes seek to provide a friendly atmosphere, assistance with daily living activities, and care, as required. The residents are closely monitored around the clock in a safe, pleasant environment.
Even if your relative is entirely independent, they can still enjoy the many benefits of moving into an extra care home. In addition to receiving assistance with household chores and meal preparation, they will be able to attend social gatherings and partake in various activities in the numerous communal areas dotted around the facility….. but, at the end of the day, they still have their own private living quarters.
Pay attention to what the future resident wants
It is crucial to ask your elderly relative for their opinion. Choosing a care home that caters their level of dependency is vital in order to ensure their full integration. Listen to your loved one to find out whether they want a home with green spaces or a facility that will accept the cat, or whether they are going to be happy without having their piano. It is essential to put their wishes first. Finally, visit the care home with your relative and think about taking some items of furniture or personal belongings with you to help them settle in and keep their bearings.
The psychological aspect of moving into a care home
To assist an elderly person in their move to a care home, it is important to understand their apprehension in order to be able to provide reassurance. The supposed loss of freedom is undoubtedly the greatest fear. This is closely followed by the fear of losing familiar landmarks and then the fear of being away from loved ones. You must make them understand that they will still have their freedom and independence so that they can manage the transition process with peace of mind.
Important: Even if the elderly person's faculties are impaired, try to involve them as much as possible in the visits. You will be able to gauge their reaction by their attitude and the feelings displayed during the visits.
What kind of comfort are you looking for in a care home?
Different types of rooms are available in care homes. The choice of room will inevitably depend on both convenience and cost.
Single or double rooms are usually furnished by the care home. They usually have a bathroom with private toilets, a chest of drawers, bedside tables, tables, chairs, and armchairs. They are often equipped with a television and a call cord. Members of staff often advise families to decorate the room with familiar objects, adding a personal, welcoming touch for the resident.  
The apartment: mostly available in extra care facilities, the quality of services available will depend on the reputation of the establishment. The extra care apartments are generally available for sale or for rent, in a variety of sizes.
Other criteria to be borne in mind when choosing a care home or extra care home
The budget: the budget is obviously a key criterion. A dedicated Senior Home Plus advisor can help you work out your budget based on the various financial aids to which you may be entitled depending on the amount of your pension, your health, and other crucial criteria. You will then be given a list of establishments that match your budget.  
Geographical location: The location is also a key factor for consideration. Family visits are fundamental to provide stability for the residents. Choosing a facility that is close to or accessible by major transport links makes it easier for families to travel, to get together, and to be actively involved in the life of their elderly relatives. Some people opt for a care home or extra care home with gardens or green areas. An advisor will be able to help you find the facility closest to your desired geographical location with green spaces, gardens, terraces, and patios.
Will I be able to take my pet with me?
Many care homes in England allow residents to take their pets with them, provided that the resident can look after the pet themselves, vaccination records are up-to-date, and safety requirements vis-à-vis other residents are fully complied with. The pets must also be house-trained. The resident must also follow the facility's in-house rules. If an elderly relative wishes to take their pet into the care home with them, it is important to find out well in advance which homes allow pets.
To find a care home in England simply send us your request so that we can respond to your needs as quickly as possible. Our advisors know which facilities have vacancies and will assist you in arranging visits and completing the registration process.
Or do not hesitate to contact us on the following number: 0203 608 0055.
Do you need a retirement home or nursing home for yourself or your loved one? Please fill out the following form: